Tetrad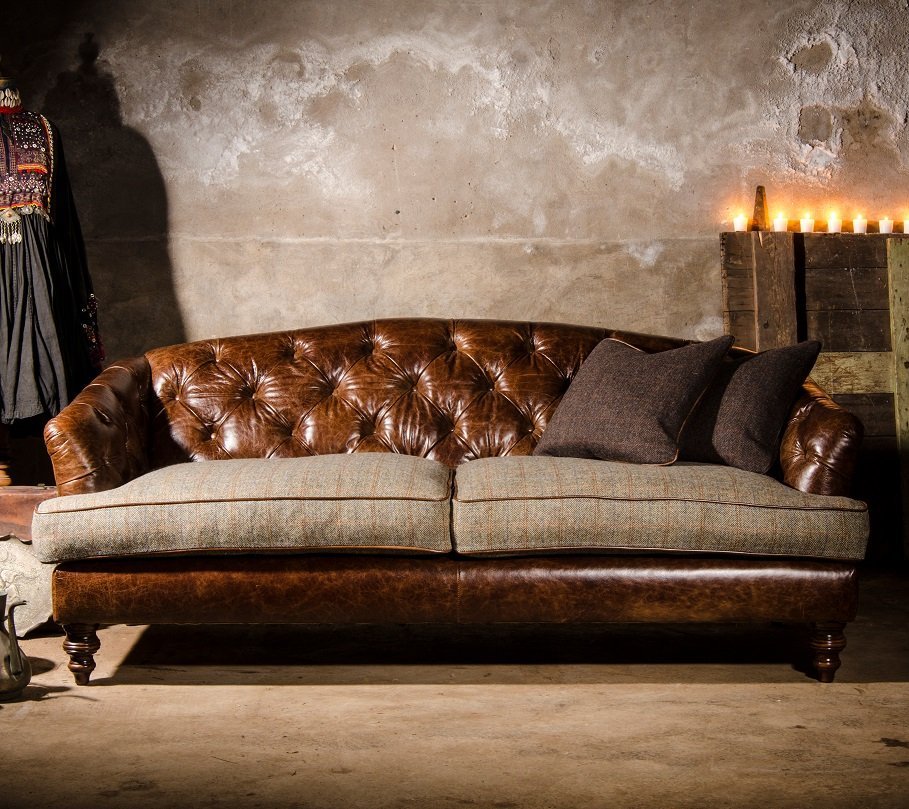 Tetrad Upholstery
Unique, eccentric British upholstery
---
---
Tetrad Sofas
There are three words that sum up the Preston upholstery maker Tetrad: unique, eccentric and British. They are not interested in churning out sofas and chairs, but are always experimenting with something different, but, every now and then, they come up with a blinding winner: their Harris Tweed collection.
From time immemorial, the inhabitants of the Outer Hebrides of Scotland have woven a beautiful and intricate cloth the world knows simply as 'Harris Tweed.'
Harris Tweed is the only fabric in the world governed by its own Act of Parliament. Returning to prominence, once more since the turn of the century, as quality workmanship and a demand for artisan products increased. This cloth will always be made by local craftsmen to exacting standards - meeting the needs of anyone seeking a luxury fabric, which mixes longevity and value, along with style and timeless quality.
Made from pure virgin 100% wool, it has been tested over 50,000 rubs resulting in a durable, quality finish that will last a lifetime. Naturally warm and soft, the Harris Tweed is washed, beaten and pressed to ensure no itchiness.
From start to finish, the cloth is in the hands of skilled and experienced artisans who oversee every stage of production utilising generations of knowledge to produce a product worthy of the name Harris Tweed. Such is the value placed on this name Harris Tweed each piece of tweed is assigned a unique number which can be tracked back to the individual home weaver.
Harris Tweed is enduringly stylish yet resilient enough to be used on upholstery.
Harris Tweed is warm in the winter and cool in the summer. It is an excellent insulator that traps air in the fibres and retains heat, to keep you warm in cooler weather. In warmer temperatures, the wool acts by wicking away moisture from your body, and the air pockets block the external heat from reaching you.
Why not come and have a look at our Tetrad Harris Tweed gallery in our main Yeovil showroom?
---
---
---
---
---
---
---
---
---
---
---
---
---
---
Tetrad Categories