Our wide range of bedroom furniture sets have all the essentials you need, including a bed, bedside tables, plus a wardrobe and a chest of drawers to store away your personal belongings. They come from the same range to give your bedroom a coordinated and stylish look. The pieces in the set have been specially curated to offer you maximum storage, whatever sized room you have. We have a range of styles and materials to choose from, from beautiful solid oak bedroom furniture sets to painted sets if you want to add a little colour. Whatever you're looking for, at Old Creamery we have the perfect set for you.
Your bedroom is your personal sanctuary. You'll want to make sure you create the perfect space to rest and relax — somewhere you can feel at peace — while also providing the more practical solution of storing away your clothes and accessories. Whether you're looking for a more traditional style bedroom or something more contemporary, our range of bedroom furniture sets will have what you need. If you live near Yeovil or Taunton, you're welcome to pop in store and have a look at our quality bedroom furniture for yourself in our fully stocked showrooms.
---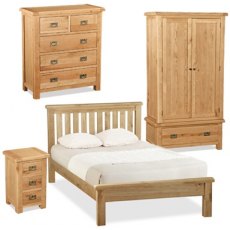 Countryside Bedroom Set
Countryside oak bedroom furniture set deal. 1x King size bedframe + 1x bedside + 1x chest of drawers + 1x wardrobe.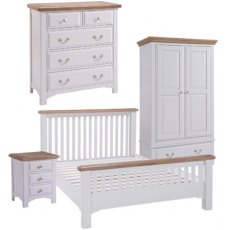 Fleur Grey Painted Bedroom Set
The New Fleur Grey Painted furniture collection is constructed from MDF and painted in a grey paint finish with oak and oak veneer top. We have a special set price when you buy the following: 4'6 Double bed (W-152.5 X D-213 X H-102cm) Bedside Chest (W-53 X D-40.5 X H-62.5cm) 2 + 3 Chest of Drawers (W-97 X D-43 X H-101cm) Double Robe on Drawer (W-114.5 X D-59.5 X H-195.5cm) (Mattress...
---
Provence Painted Bedroom Set
Provence painted bedroom furniture set deal. 1x King size bedframe + 1x bedside + 1x chest of drawers + 1x wardrobe.
Normandy Bedroom Set
Normandy painted bedroom furniture set deal. 1x King size bedframe + 1x bedside + 1x chest of drawers + 1x wardrobe.
---
Bristol Oak Bedroom Set
Bristol oak bedroom furniture set deal. 1x 4'6 size bedframe + 1x bedside + 1x chest of drawers + 1x wardrobe.
---
Bedroom Furniture Sets
What items are typically included with a bedroom furniture set?
A well-coordinated bedroom is visually appealing, creating a relaxing haven for you to relax in. But it is not just the aesthetic appeal of your bedroom that is important — it also needs to store away all your personal belongings, like clothes, shoes and accessories. To make things simple (and to save you some money) we've put together popular furniture pieces into handy bedroom furniture sets that not only look great but offer excellent storage for your things.
Our bedroom furniture sets are a combination of the most popular bedroom furniture items from each range. They include a bed, bedside tables, chest of drawers and wardrobes — everything you need to furnish your bedroom and store away your belongings. If you would like to modify a particular bedroom furniture set, our friendly team would be happy to help. Please call us on 01935 410500 or contact us here.
Do bedroom sets include a mattress?
As the largest piece of furniture in your bedroom, your bed will inevitably be the focal point of the room. As such, it is arguably the most important part of a bedroom set. In our bedroom furniture sets, the bed only refers to the frame or the base of the bed which will support the mattress. It does not include the mattress.
That is because the correct level of support is individual to each person. To ensure comfort and a good night's sleep, it is vital to select the right mattress tension for you. It is estimated that we spend around one third of our lives in bed! There are so many health benefits to getting a good night's sleep and so it is important to take the time to find the correct level of support.
At Old Creamery we have the perfect mattress to suit you. From pocket sprung to memory foam, soft, hard or supportive, we have a wide selection to choose from. If you are local to our Yeovil or Taunton stores, why not pop in and speak to one of our experienced sales team to help you choose the perfect mattress for you.
What is the best material for bedroom furniture?
Solid wood is widely regarded as the best material for bedroom furniture and there are many reasons for this. Wood is beautiful, versatile, low maintenance and tough as nails.
Strength
Wood is a robust, durable, and long-lasting material making it ideal for bedroom furniture. Hardwoods, like oak, are mighty resilient and can withstand plenty of abuse from daily life.
Durability
With the right care, wooden furniture can last for generations. Wax oils can be applied a couple of times a year to nourish the wood and stop it drying out.
Beauty
From lighter hues to rich, dark tones, wood comes in plenty of varieties that are all full of character and charm. Wood furniture can even be painted to suit a specific design theme.
Versatility
Wood does not have the same style limitations that other materials do. Whatever your interior style — traditional, classic, modern, farmhouse or industrial — timber slots in seamlessly.
Low maintenance
Wooden furniture is easy to clean and, with regular waxing to nourish the wood, can last for generations to come.