This charming dining table is perfect for kitchens and breakfast rooms. Characterised by its beautifully sculpted legs and oak top, the Fleur Extending Round Dining Table & 4 Chairs features a combination of classic charm and everyday functionality.
Along with the four matching chairs, this stunning dining table is finished with a durable grey paint. The chairs are designed for comfort, thanks to generously cushioned seating pads. And the oak and oak veneer top adds an element of elegance.
Included with the table is one internal leaf, so extended it for more guests takes just a few seconds. And if you want a consistent look in your kitchen or dining room, take a look at the other items in the range, which include a lamp table, a console table and a coffee table.
Finished with a durable grey paint
Elegant oak and oak veneer top
Extends from diameter of 110cm to 145cm
Part of the wider Fleur range
Bundle Contents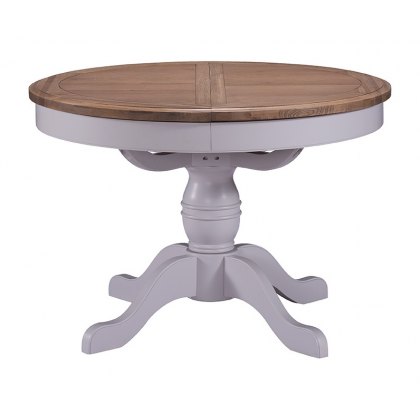 +
Collection/Delivery
Our best possible price is for collecting items from us. With our huge stock holding, if your chosen item is in stock, you can collect from us today. If this is not possible we can arrange delivery, with a charge based on your location.
Fleur Extending Round Dining Table & 4 Chairs
Secure Online Payments
You can be assured that purchasing from us is safe. All of our card transactions are processed securely.